Meet Ronez's Tortoise Takeover Artist
Published Thu 13th Apr 2023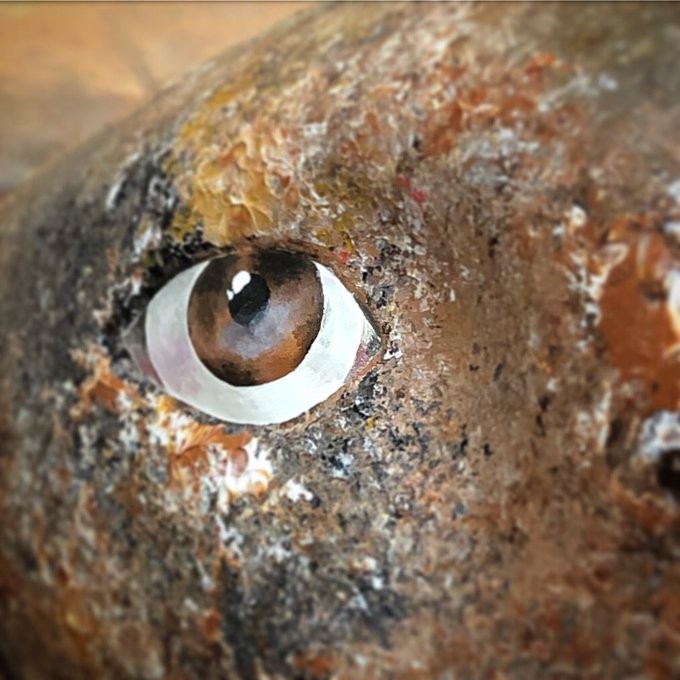 Durrell Wildlife Conservation Trust's Tortoise Takeover is an island-wide, public art trail that will bring together every part of Jersey's community and in turn, protect some of the most threatened species on the planet.
In the summer of 2023, dozens of uniquely designed tortoise sculptures will take over Jersey's wild places, coastal vistas and urban hangouts as ambassadors for all the work that Durrell undertakes with reptiles across the globe.
Ronez is again fully immersed in supporting the project by making the low-carbon fibre reinforced concrete plinths that the 50+ tortoises will sit on. In return, we are able to sponsor a sculpture and we chose a fantastic design submitted by the fabulous artist Amy Bourbon.
Paul Pinel, our Sales Manager, caught up with Amy for a chat recently whilst she was in Jersey…
How are you feeling about your involvement again this year?
I was so excited to hear the announcement for another Jersey Zoo sculpture trail and immediately started planning some designs for the magnificent giant tortoises! I absolutely loved being a part of the Go Wild Gorillas project in 2019. It was my first sculpture trail and heralded the beginning of many sculpture painting adventures all across the UK, the Isle of Man (where I now live) and of course, Jersey. I travelled over to Jersey in March to work in the artist painting space, creating 2 giant tortoises. I was looking forward to the experience, as I knew several returning artists from the trail in 2019 so it felt like a trail reunion! I have also been a lifelong member of Jersey Zoo, visiting Jersey for as long as I can remember, so I made sure to have time for a visit! I was also asked to take part in a live interview from the painting space with BBC Radio Jersey. The excitement and anticipation for the trail is already building!
What have you been up to since you designed and painted Rotchi in 2019?
I have been very lucky to have brought a total of 17 sculptures to life over the past 3 years (plus 2 giant tortoises yet to be unveiled!), raising over £90,000 for various charities. It's a joy to be able to play even just a small part in the trails, from creating designs, to having designs commissioned, working alongside other artists, visiting the trails and exploring new places and attending the exciting but nerve-wracking auction nights! I have also worked on commissions, developed my oil painting practice and most recently been working with the Isle of Man Steam Packet Company to produce artworks (oil paintings) for one of the lounges on the new vessel soon to be arriving on the Isle of Man to sail to and from the mainland.
Hopefully you are pleased to be working with Ronez again?
I feel very privileged to have support from Ronez, who sponsored my Jersey gorilla 'Rotchi' for the Go Wild Gorillas trail in 2019. Rotchi was on the trail in St John with one of the most stunning views on the island! He then sold for an incredible £41,000 at the auction…it truly was an evening to remember! I can't give any spoilers about my Ronez sponsored tortoise, 'Helier', but I can say he was a joy to bring to life and has a very mischievous expression! During my stay, I was able to visit Ronez to see the plinths in production. It's a fascinating process and interesting to hear about the use of low carbon concrete. It'll be so exciting to see the plinths popping up around the Island for the trail in July. We are all guessing which plinth Helier will be taking over for his temporary home when he's out on the trail!
How long did it take you to paint Helier and is there anything special that we should look out for?
I was in the painting space in Jersey for 12 days in total to paint my 2 sculptures. I worked on both sculptures simultaneously, which was especially useful, as Helier needed a lot of drying time! I don't want to give away too much about his design, but he was created with many layers of paint and a great deal of texture. He even has extra thick acrylic gel layers to build some very exciting details on his shell. He should be experienced through touch as well as through sight so photos alone don't do him justice! Look out for his cheeky expression – he definitely looks like he's up to mischief!
What are you looking forward to most about the trail and will you be popping back to see Helier in situ?
I've already booked my return visit for the trail launch on 1st July and I am actually due to arrive a few days early to be there for my Birthday and to watch the excitement building for the trail! The Go Wild Gorillas project was embraced with so much positivity and excitement, with both Jersey locals and visitors getting involved and celebrating the trail. I fully anticipate the same excitement, if not more for the Tortoise Takeover! It's so lovely to see people visiting every corner of the island to find the sculptures and if the Gorilla trail is anything to go by, the most overused word on the island in the summer will definitely be TORTOISE!!!! I can't wait!
Where can we find out more about you?
You can visit my website – www.amybourbon.com where you can find a new sculpture portfolio page as well as a galleries page detailing my oil paintings and drawings. For the most current news including trail updates and sneak peeks of my tortoises 'Helier' and his brother 'Jèrri', follow me on social media!
Instagram - @amybourbonart
Twitter - @amybourbon
For more information on the project and Ronez's low-carbon fibre reinforced concrete, please contact Paul on 07829 925625 or paul.pinel@ronez.com
Gallery