Ronez and Sika join forces to come up with a solution for a foul pump chamber
Published Thu 09th Jul 2020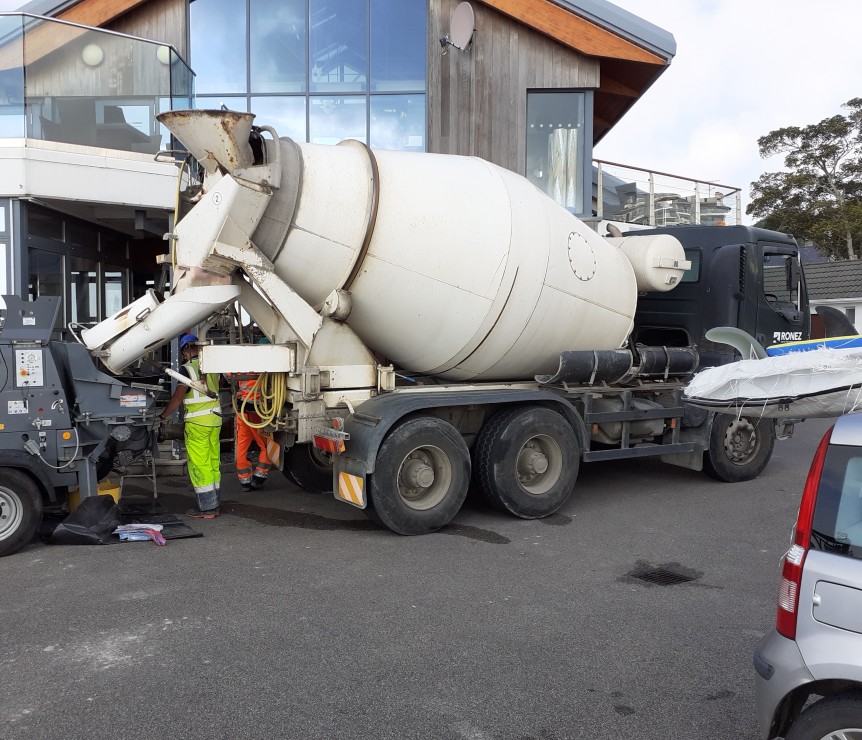 Geomarine were contracted to carry out remedial works to the foul pump chamber at the Boat House in St Aubin's Harbour, Jersey. The works involved breaking out the existing base slab of the chamber and casting a new slab. Although a short project, there was the challenge of working around the tide, which required a concrete that would gain adequate strength in a short space of time. With the slab being part of a waterproof structure, durability could not be comprised either.
Darren Sowney from Geomarine said, "As with most repair jobs to pump chambers, time was also of the essence to get it back in use. Ronez worked quickly and effectively to propose a concrete with admixtures that would be suitable to meet the needs of workability, early strength gain, and durability of the final concrete. Working closely with us and the Structural Engineer, the proposed concrete was quickly accepted and the pour went smoothly with a Ronez technician on site administering the admixtures."
Alex Farrow from T & G added, "Replacing the base concrete slab in the Boat House's sewage chamber sounds simple enough, but a narrow, deep chamber (accessible only by a confined access team) within the tidal zone presents a unique set of difficulties."
T & G turned to Ronez, who work with Sika, to provide specialist advice and they were able to concoct a "potion" of concrete specifically for this project.
T & G decided to opt for the grade C40/50 Ronez Watertight concrete (with 10mm aggregate to ensure the concrete flowed into all the gaps), to which Ronez added Sika Rapid 2 to accelerate the setting time. "Now comes the really clever part", said Alex who continued, "using a set inhibitor, Sika's Viscocrete 4100, to hold the initial set for 2 hours, Geomarine were able to place the concrete without it curing too early. A potion indeed!"
"The knowledge and specialist input from Ronez (and their connections with Sika) were invaluable on this project, which despite its small size, was a challenge in design, logistics and installation", Alex said.
For more details on this project and further information on Ronez's array of ready-mixed concrete solutions, please call Paul Pinel on 07829 925625.
Gallery