Ronez wins the JeCC "Best Use of Innovation" Award for new Ready-Mixed Concrete Plant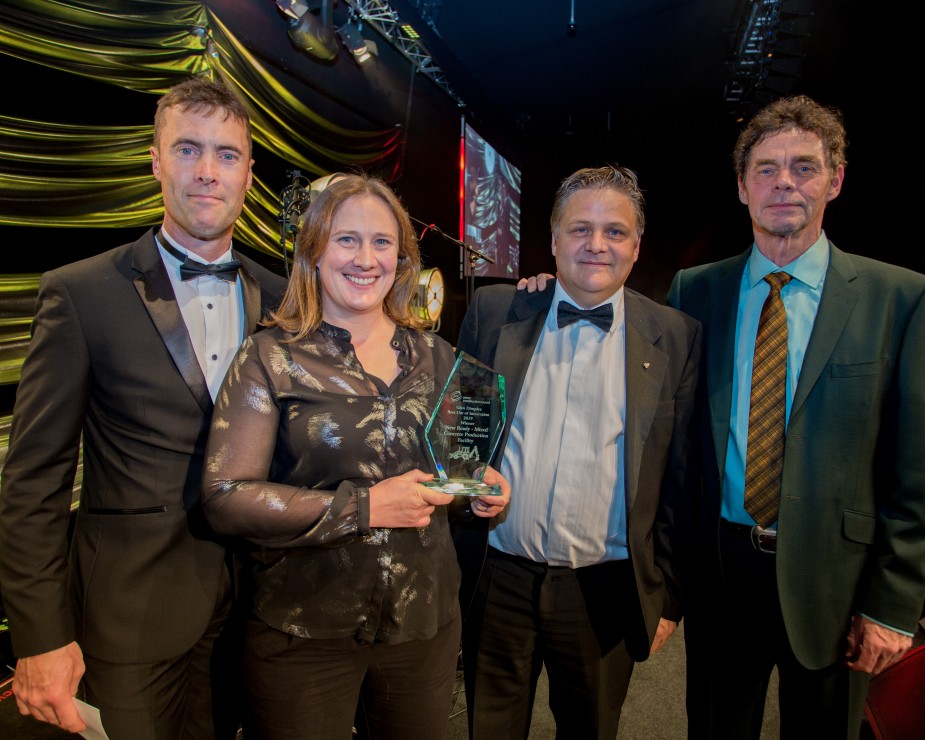 Ronez have won the 2019 Jersey Construction Council "Best Use of Innovation" Award for their new Ready-Mixed Concrete Production Facility at St John in Jersey. Pictured receiving the award recently from sponsors GlenDimplex (left) and Keynote Speaker, Rich Hall, (right) is Ronez's General Manager, Kirsten Du Heaume and Sales Manager, Paul M Pinel. Also on the night, Toby Cabaret, our Assistant Quarry Manager, was shortlisted for the Star of the Future award.
The gala dinner and presentation was attended by over 450 people and took place at the Royal Jersey Showground in Trinity on Saturday 19th October 2019. The awards, now in their 15th year, are seen as one of the most prestigious and enjoyable awards events in the business calendar. Following the success of the 2018 Awards, the Jersey Construction Council were once again looking for nominations in a variety of categories that include small businesses, individual achievements, innovative processes and projects ranging from anything under £1m to larger projects of over £5m.
This year's judging panel included Graeme Smith, CEO of Jersey Business, who will continue as Chairman. He was ably supported by Professor Ed Sallis OBE, Mike Liston OBE, John MacPherson, Senior Building Control Surveyor and Tammy Fage, Director HSI Inspectorate.
Paul Pinel, Ronez's Sales Manager said, "We would like to thank the Jersey Construction Council for putting on another very successful and enjoyable event. It is always a real pleasure to attend, this year made all the more enjoyable, by the fact that we not only won the Best Use of Innovation Award for our fantastic new Ready-Mixed Concrete Production Plant but our colleague, Toby Cabaret, was shortlisted for Star of the Future."
"Ronez was also delighted to sponsor the "Project Over £5 Million" award again this year which was won by College Gardens (Blocks 2-6)", Paul concluded.
Gallery