Mesh Replacement Fibre Concrete used at the new Les Quennevais School in Jersey
Published Mon 20th May 2019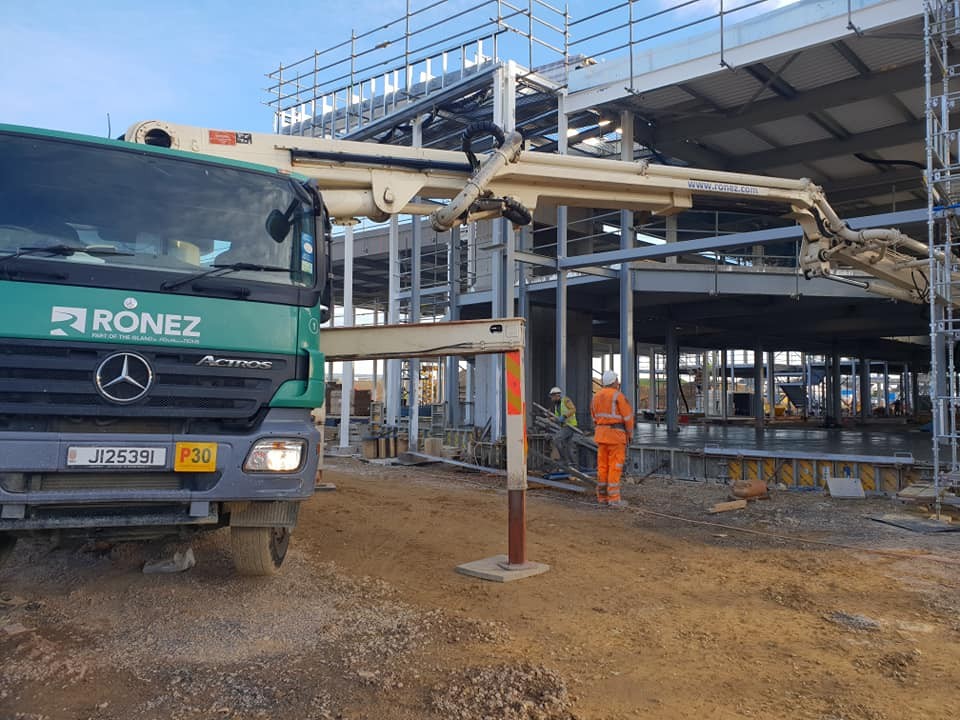 When a contractor invited Ronez to assist with the supply of concrete for the new Les Quennevais School site, it presented an ideal opportunity to utilise our Slabcrete product within the ground floor areas.
Ronez Slabcrete offers the same security of a high performance reinforced concrete slab using traditional reinforced steel mesh. The decision to use Slabcrete concrete meant that the contractor could completely eliminate the use of reinforcing steel, thus saving the cost of the steel itself, the transport costs and the labour and time required to place, fix and tie the required steel mesh.
Paul Pinel, Ronez's Sales Manager, commented,
"We added the fibre, in water-soluble bags, to the concrete at the plant in St John at a dosage of 2 kgs/m³. This was then delivered in a mixer, with the fibres completely dispersed throughout the concrete, ensuring ease of placing by pump and a comprehensive reinforcement to all areas of the slab. In addition to the savings in steel and labour, the use of fibres also allowed the contractor to enlarge the dimensions of the bays thus speeding up installation and reducing the costs of the joint sealing materials."
Slabcrete, when correctly specified, will deliver...
Unparalleled ease of construction
Enhanced toughness making it suitable for areas subjected to high impacts
Available in a high performance grade that will achieve the required compressive strength in as little as 24 hours offering considerable savings in programme
Placing is as easy as conventional concrete, is available in strengths up to 100 N/mm2 and may be supplied containing a pigment
High volume stability reduced shrinkage
Superior toughness when subjected to mechanical forces and plant
Possible savings over conventional steel mesh reinforcement
Reduction in joints through larger panel construction
Slabcrete can be tailored to the particular challenges of your contract
For more information, visit https://www.ronez.com/products/value-added-solutions or call Paul Pinel in Jersey on 07829 925625 or Paul Gibson in Guernsey on 07781 130235.
Gallery